Home Appliance Repair
Our goal as a company is to provide a safe and comfortable home for our clients. We understand that homes are the biggest investment of a household and appliances that comes with it too. To protect your valuables we are here to help you. We want to provide our clients properly functioning appliances both large and small, electric and gas powered. 
We are always happy to deliver a quick, efficient and effective appliance repair! 
Small Kitchen Appliance Repair 
Every home owner loves their small kitchen appliances. Each machine serves their own purpose from blending, scraping, cleaning, and processing to heating. These small but incredible appliances makes life more convenient and easy. If they start to give up on you, do not give up on them. Have your faulty and damaged small kitchen appliances be repaired by the top repair service and do not just throw them away.
Our company recommends our customers to best fix their small kitchen appliances rather than towing them away. With this small gesture you can create a big impact to your family's spending and to the environment. Having repairs can save you from buying new ones and can lessen solid waste discharge to the environment.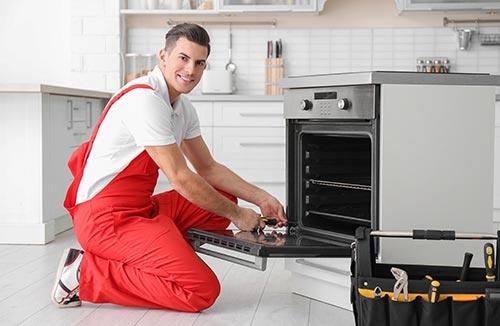 We offer service repairs on the following appliances:
Air purifier repair- this appliance can have possible damages on electrical cord, motor, appliance control or fan. Our company would disassemble your air purifier and clean its foam filters, replace ionizer wires and test the precipitating cell.

Blender Repair- We check and fix problems on electrical cords, fuse, appliance control and motor.  Common problems with blender appliances are on its drive stud. 

Coffee maker repair- Our technicians disassemble and test a drip coffee maker and percolator coffee maker to check its problems on electrical cord, fuse problem, thermostat, heating, and appliance control issues.

Vacuum cleaner repair- Technicians identifies the problem and what often goes wrong with vacuum cleaner appliances and check its cordless vac and battery. 
Our skilled technicians can repair and replace any issue on different kinds of small kitchen appliances from variation of brands from Bosch, Kenmore, LG, Electrolux and Samsung. 
Electrical Appliance Repair 
Our company always got your back for your electrical appliance repair needs in Regina. Guaranteed fast, easy and hassle free. Get your electrical appliances be repaired by the professionals with our trusted and experienced experts in the repair industry. 
We are aware of the dangers and hazards while working with electrical appliances. Our company makes it sure that we are ready for possibilities of accidents in the work. It may be contact with active wires, defective instruments that can cause shock. Our technicians also work for hours having to handle bulky and heavy appliances that may cause back, neck and leg pain. 
Having these in mind, we make it sure that we hire certified technicians that have spent their education in the field of electrical and mechanical systems. Our repair persons can handle various electrical equipment's and we can guarantee you 100% effectiveness of our repair service.
Large Appliance Repair 
With the same purpose of small appliances, large home appliances have its fair share of work to perform. These big appliances work hard for year and are easy to take for granted. Breaking down of these giants may cause us a major disability to function daily activities such as cooking and storing of food. Because these appliances are too complex to be fixed on your own, homeowners are best advised to let a professional fix it. 
Our highly technical and detail oriented technicians can look through your appliances whether the problem is in the control device or mechanical device. Our skilled technicians follow three important rules upon repair. First is to always make sure that the electric or gas power is disconnected before testing the appliance. Second, if the parts are held together with screws and bolts repairs can be necessary. Third, broken parts can be best repaired if replaced with new parts.
Appliance Repair Technician
Our experienced technicians fix brands such as Bosch, Kenmore, LG, Electrolux and Samsung and different models of home appliances. We are able to build loyal home owners in Regina and have them trust us with their homes with our excellent quality service and instant results in home appliance repair. 
Each of our team are trained rigorously and have equal capabilities with appliance repairs and replacements. We can diagnose, repair and replace any major or minor problem on your home appliances. 
Call us today and our licensed and experienced team will be right at your doorstep!